I'm starting a little Halloween tradition here on The Spiff.
Last Halloween I wrote about a Keihls face masque (which you can read about
here
); this Halloween I'm going to write about something else you can slather all over your face-moisturizer.
So you can pretty much bet that Halloween is the time to learn about things of which you can glop all over that pretty mug of yours. Whether your face needs it because it's been slathered with costume make up or not doesn't matter-it's always good to pamper your face :)
Now, let's talk about moisturizer.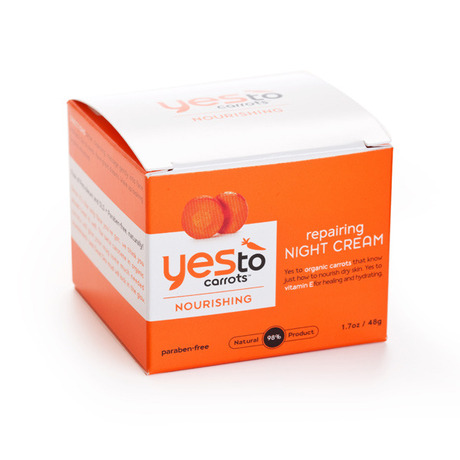 My nightly ritual has always been somewhat varied. During the day, it's Oil of Olay moisturizer with SPF all the way Baby! LOVE that stuff, and will forever and always.
Night cream hasn't been such a romantic comedy. More of a thriller to see what will happen next.
What I'm using right now is "Yes To Carrots Moisturizing Night Cream". I was such a big fan of their face wipes that I thought I'd give the moisturizing a try.
Honestly, going into writing this thing I realized I like it more than I thought I did. It's creamy without being greasy, and thick without being too lotion-y.
There's a lot in the container so you won't go through it quickly (which means it's also worth the money), and a little does go a medium way (I wouldn't say long, but you don't need a ton).
My only draw back is the effects I've seen (or rather not seen) on my face. It feels good after I apply but nothing is noticeably different in the morning. I don't know what I'm looking for exactly, I guess a dewy glow would be nice. But really, for the money and quality I'd say it's one of the best drug store night creams I've tried so far. And it's not full of whatever things are bad for your face (this week, it'll change next week I'm sure).
I don't watch thriller movies, but I'd say this lotion is a kin to that moment when you're waiting for what's going to pop around the corner and it's the cat. Safe, not scary, but not a handsome guy holding flowers either. Make sense?
So in conclusion, if you don't want to slather bad things on your face, or you have and you're looking for the reverse effect this evening-say Yes! Yes To Carrots!